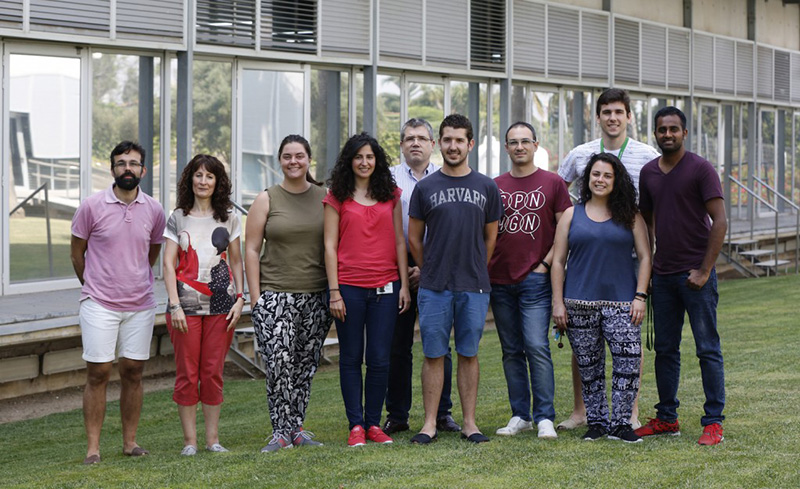 Group Leader:
Anton Vidal, ICREA Professor
Administrative Support:
Paula Segovia
Postdoctoral Researchers:
Héctor Fernández (until November) / José Luis Núñez
PhD Students:
Lucas Carreras (until July) / Alicia Martínez (until November) / Nuria Llorente / Ester Iniesta / Andrés Romero / Juan José Cabezas / Alba Martínez
Visiting Students:
Florence Oluwayemisi Babawale (Aug.-Oct.)
Summary
Research by the group of Prof. Vidal focuses on the development of novel, efficient and reliable catalytic asymmetric methodology – their current aims encompass the design, preparation and application of new catalytic systems. The key aspects of this work include the modular design of the catalysts using versatile preparation methods (organic and inorganic transformations or supramolecular processes) and computational study of catalytic cycles. In response to ICIQ's desire to promote projects in collaboration with industry, Prof. Vidal has also directed his efforts in the field of catalysis for industrial purposes.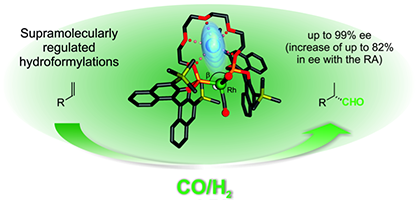 Publications
'Stereoselective Catalytic Synthesis of P-Stereogenic Oxides via Hydrogenative Kinetic Resolution'
Fernández-Pérez, H.; Vidal-Ferran, A.
Org. Lett. 2019, 21 (17), 7019-7023
'Homochiral metal-organic frameworks for enantioselective separations in liquid chromatography'
Corella-Ochoa, M. N.; Tapia, J. B.; Rubin, H. N.; Lillo, V.; Gonzalez-Cobos, J.; Núñez Rico, J. Luis; Balestra, S. R. G.; Almora-Barrios, N.; Lledos, M.; Guell-Bara, A.; Cabezas-Giménez, J.; Escudero-Adán, E. C.; Vidal-Ferran, A.; Calero, S.; Reynolds, M. M.; Marti-Gastaldo, C.; Galan-Mascaros, J. R.
J. Am. Chem. Soc. 2019, 141 (36), 14306-14316
'Mechanistic Insights into the Ceria-Catalyzed Synthesis of Carbamates as Polyurethane Precursors'
Puértolas, B.; Rellán-Piñeiro, M.; Núñez-Rico, J. L.; Amrute, A. P; Vidal-Ferran, A.; Lopez, N.; Pérez-Ramírez, J.; Wershofen, S.
ACS Catal. 2019, 9 (9), 7708-7720
MORE PUBLICATIONS
'Kinetic Treatments for Catalyst Activation and Deactivation Processes based on Variable Time Normalization Analysis'
Martínez-Carrión, A.; Howlett, M. G.; Alamillo-Ferrer, C.; Clayton, A. D.; Bourne, R. A.; Codina, A.; Vidal-Ferran, A.; Adams, R. W.; Burés, J.
Angew. Chem. Int. Ed. 2019, 58 (30), 10189-10193
'Energy Alignment and Recombination in Perovskite Solar Cells: Weighted Influence on the Open Circuit Voltage'
Gelmetti, I.; Montcada, N.; Perez-Rodriguez, A.; Barrena, E.; Ocal, C.; Garcia, I.; Molina Ontoria, A.; Nazario, M.; Vidal-Ferran, A.; Palomares, E. J.
Energy Environ. Sci. 2019, 12, 1309-1316
'Halogen Bonding Effects on the Outcome of Reactions at Metal Centres'
Carreras, L.; Benet-Buchholz, J.; Franconetti, A.; Frontera, A.; van Leeuwen, P. W.N.M.; Vidal-Ferran, A.
Chem. Commun. 2019, 55, 2380-2383
'Efficient modular phosphorus-containing ligands for stereoselective catalysis'
Llorente, N.; Fernandez-Perez, H.; Nunez-Rico, J. L.; Carreras, L.; Martinez-Carrion, A.; Iniesta, E.; Romero-Navarro, A.; Martinez-Bascunana, A.; Vidal-Ferran, A.
Pure Appl. Chem. 2019, 91 (1), 3-15
Projects
DEFACTOOLS
Diseño de herramientas catalíticas enantioselectivas: aplicación a la preparación de moléculas bioactivas y a la valorización de materias primas derivadas del petróleo
Ministerio | Ref: CTQ2017-89814-P
Theses Supervised
Lucas Carreras
July 17th, 2019
Universitat Rovira I Virgili
"Supramolecular Catalysis: Halogen Bonding and Regulation Strategies Applied to Hydroboration and C-H Functionalization Reactions"
Features
Halogen bonds to self-assemble supramolecular catalysts
http://www.iciq.org/halogen-bonds-to-self-assemble-supramolecular-catalysts/