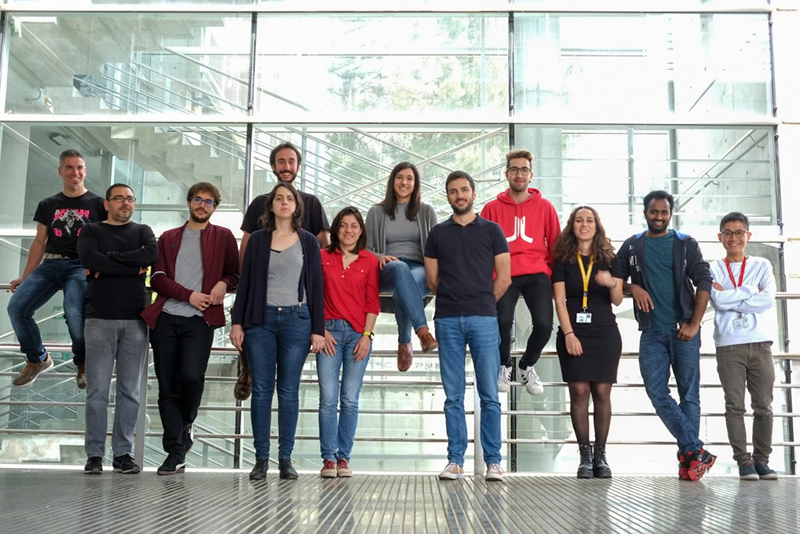 Group Leader:
Emilio Palomares, ICREA Professor
Laboratory Engineer:
Santi Gené
Administrative Support: 
Aurora Cáceres
Postdoctoral researchers:
María Méndez / Nuria Fernández (until July)
PhD Students:
Sofia Paulo (until June) / Cristina Rodríguez Seco (until June) / Ilario Gelmetti (until July) / Jesús Jiménez (until November) / Dora Alejandra González / Ece Aktas/ Sarika Kumari (since March)
Master Students:
Sarah Hudson (from October)
Visiting Students:
Lijun Su (since April) / Jonas Twellman (Apr. – Sep.) / Miquel Cecilio-Gonçalves Pedrerol (May – July) / Paula Alcalà (July – Sep.)
Visiting Researchers:
Gowrishankar Subramaniyam (Jan. – Mar.)
Summer Fellows:
Alba Gascón (June – Sep.)
Summary
The group of Prof. Palomares works on the synthesis and characterization of molecules and materials with optical and electrical properties. Through these materials, the group manufactures electronic devices, including solar cells, light emitting diodes and sensors. Additionally, all interfacial load transfer reactions are characterized by the use of advanced photo-induced transient spectroscopy under operating conditions. The group has described the preparation of organic solar cells with an efficiency greater than 10% and solar cells of perovskite with an efficiency of 19%. These efficiency values are among the best published in the scientific literature and have been possible thanks to the study and minimization of the losses of recombination of loads. The group aspires to understand the relationship between the molecular structure and the function of the devices.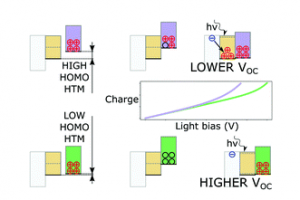 Publications
'Hot Electron Injection into Semiconducting Polymers in Polymer Based-Perovskite Solar Cells and their Fate'
Jiménez-López, J.; Puscher, B.; Cambarau, W.; Fink, R. H.; Palomares, E. J.; Guldi, D. M.
Nanoscale 2019, 11, 23357-23365
'Interfacial Recombination Kinetics in Aged Perovskite Solar Cells Measured Using Transient Photovoltage Techniques'
Jiménez-López, J.; Palomares, E. J.
Nanoscale 2019, 11, 20024-20029
'Energetic disorder in perovskite/polymer solar cells and its relationship with the interfacial carrier losses'
Yaghoobi Nia, N.; Méndez, M.; di Carlo, A.; Palomares, E.
Philos. Trans. Royal Soc. A 2019, 377 (2152)
MORE PUBLICATIONS
'Direct White Light Emission from Carbon Nanodots (C-dots) in solution processed Light Emitting Diodes'
Paulo-Mirasol, S.; Martinez-Ferrero, E.; Palomares, E. J.
Nanoscale 2019, 11, 11315-11321
'Flat Is Boring in Perovskite Light Detectors'
Jiménez-López, J.; Palomares, E.
Chem. 2019, 5 (4), 748-749
'Supramolecular Coordination of Pb2+ Defects in Hybrid Lead Halide Perovskite Films Using Truxene Derivatives as Lewis Base Interlayers'
Aktas, E.; Jiménez-López, J.; Rodríguez‐Seco, C.; Pudi, R.; Ortuño, M. A.; López, N.; Palomares, E. J.
ChemPhysChem 2019, 20 (20), 2702-2711
'2: Porphyrins in Molecular Solar Cells'
Cabau, L.; Clifford, J. N.; Palomares, E.
«Bioinspired Chemistry From Enzymes to Synthetic Models» 2019
'Energy Alignment and Recombination in Perovskite Solar Cells: Weighted Influence on the Open Circuit Voltage'
Gelmetti, I.; Montcada, N.; Perez-Rodriguez, A.; Barrena, E.; Ocal, C.; Garcia, I.; Molina Ontoria, A.; Nazario, M.; Vidal-Ferran, A.; Palomares, E. J.
Energy Environ. Sci. 2019, 12, 1309-1316
'Ionic-to-electronic current amplification in hybrid perovskite solar cells: ionically gated transistor-interface circuit model explains hysteresis and impedance of mixed conducting devices'
Moia, D.; Gelmetti, I.; Calado, P.; Fisher, W.; Stringer, M.; Game, O. S; Hu, Y.; Docampo, P.; George Lidzey, D.; Palomares, E. J.; Nelson, J.; Barnes, P. R. F.
Energy Environ. Sci. 2019, 12, 1296-1308
'Semiconductor self-assembled monolayers as selective contacts for efficient PiN perovskite solar cells'
Yalcin, E.; Can, M.; Rodriguez-Seco, C.; Aktas, E.; Pudi, R.; Cambarau, W.; Demic, S.; Palomares, E.
Energy Environ. Sci. 2019, 12, 230-237
Projects
LIGHT4LUNGS
Inhalable Aerosol Light Source for Controlling Drug-Resistant Bacterial Lung
Collaborative Projects| Ref: 863102
Foto Transfer
Procesos de Transferencia de carga en dispositivos fotovoltaicos híbridos: Nanocristal semiconductor/melécula orgánica semiconductora
Ministerio | Ref: CTQ2016-80042-R
Materials i Dispositius Optoelectrònics
AGAUR | Ref: 2017 SGR 978
Theses Supervised
Sofia Paulo
June 14th, 2019
Universitat Rovira i Virgili
'Optoelectronics Properties of Quantum Dots for Biomedicine and Energy-to-light'
Cristina Rodríguez
June 21st, 2019
Universitat Rovira i Virgili
'Low-Molecular Weight Organic Semiconductors for Organic and Perovskite Solar Cell'
Illario Gelmetti
July 15th, 2019
Universitat Rovira i Virgili
'Advanced Characterization and Modelling of Charge Transfer in Perovskite Solar Cells'
Jesús Jiménez
November 22nd, 2019
Universitat Rovira i Virgili
'Analysis of the Different Kinetic Processes in Perovskite Solar Cells'
Features
The interface makes the difference
http://www.iciq.org/the-interface-makes-the-difference/
Lean solar cells
http://www.iciq.org/lean-solar-cells/