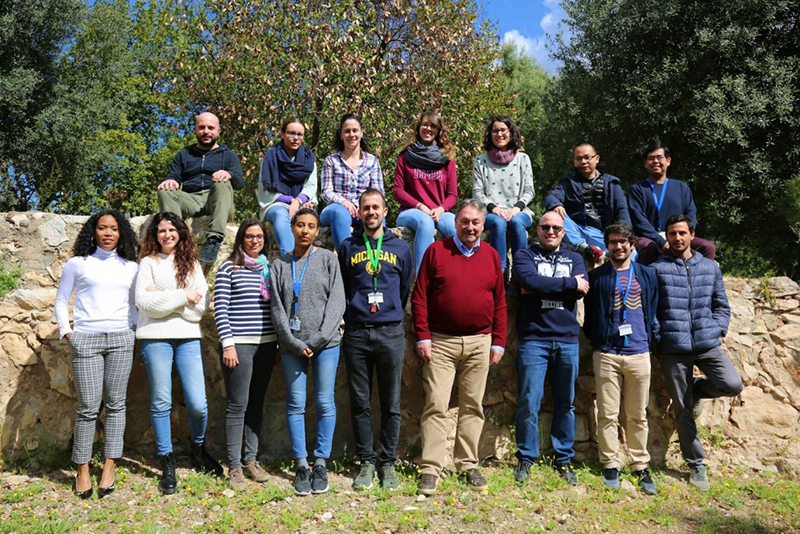 Group Leader:
Miquel A. Pericàs
Administrative Support:
Sorania Jiménez / Sara Garcia
Postdoctoral Researchers:
Pedro Alonso (until March) / Santiago Cañellas (until June) / Parijat Borah / Mauro Fianchini
PhD Students:
Lluís Llorens (until October) / Marco M. Mastandrea / Junshan Lai / Nicola Zanda
Laboratory Engineer:
Patricia Llanes
Visiting Students:
Carla Sappino (until February) / Stefania Perulli (since October)
Summary
The group of Prof. Pericàs participates in an extensive research programme aimed at developing a complete set of catalysts immobilized in polymers and magnetic nanoparticles with optimal characteristics in terms of catalytic activity, stereoselectivity and life cycle. The final objective is the development of continuous flow versions of the most relevant catalytic and enantioselective organic synthesis processes, contributing to a more sustainable practice of chemical synthesis. For its pioneering work, the group is recognized as one of the leaders in the field. Its current objectives involve the development of commercial solutions for the application of catalytic methodologies in continuous flow to production.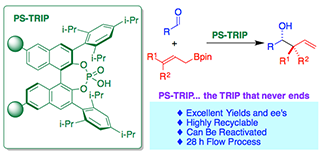 Publications
'Anion–π Interactions in Light‐Induced Reactions: Role in the Amidation of (Hetero)aromatic Systems with Activated N‐Aryloxyamides'
Buglioni, L.; Mastandrea, M. M.; Frontera, A.; Pericàs, M. A.
Chem.: Eur. J 2019, 25 (50), 11785-11790
'Reusable shuttles for exchangeable functional cargos: Reversibly assembled, magnetically powered organocatalysts for asymmetric aldol reactions'
Mendoza, C.; la Croix, A.; Riente, P.; Llorens, L.; de Mendoza, J.; Pericàs, M. A.
Tetrahedron 2019, 75 (42), 130592
'Multigram-Scale Flow Synthesis of the Chiral Key Intermediate of (–)-Paroxetine Enabled by Solvent-Free Heterogeneous Organocatalysis'
Ötvös, S. B.; Pericas, M. A; Kappe, C. O.
Chem. Sci. 2019, 10, 11141-11146
MORE PUBLICATIONS
'Diastereodivergent Enantioselective [8 + 2] Annulation of Tropones and Enals Catalyzed by N-Heterocyclic Carbenes'
Wang, S.; Rodríguez-Escrich, C.; Fianchini, M.; Maseras, F.; Pericàs, M. A.
Org. Lett. 2019, 21 (9), 3187-3192
'Catalytic Enantioselective Flow Processes with Solid-Supported Chiral Catalysts'
Rodríguez-Escrich, C.; Pericàs, M.A.
Chem Rec. 2019, 19 (9), 1872-1890
Projects
Flow2Biotics
Flow-chemistry to discover Nivel abtibiotics against multi-drug resistant bacteria
Ministerio| Ref: EIN2019-103513
Catch3D
Sistemas de flujo continuo inteligente utilizando catalizadores impresos en 3D
Ministerio| Ref: CTQ2017-92773-EXP
VIRO-FLOW
Enabling Technologies and Drug Discovery: Continuous Flow Processes to Discover Novel Antiviral Inhibitors
MSCA ITN | Ref: 766058 Project Website
FLOW4HEALTH
Desarrollo de Procesos en Flujo Continuo para la Indústria Químico Farmacéutica
Ministerio | Ref: RTC-2016-5807-1 
ROBOCAT
Sistemas Catalíticos inmovilizados robustos para la producción sostenible de productos químicos de alto valor añadido
Ministerio | Ref: CTQ2015-69136-R
Theses Supervised
Lluís Llorens
October 28, 2019
Universitat de Barcelona
"Preparation of Cucurbiturils (Cbs) Immobilized on Iron Oxide Magnetic Nanoparticles (Mnps) for Application in Selective Complexation and Catalysis"

Features
Miquel A. Pericàs honoured by the Real Sociedad Española de Química
http://www.iciq.org/miquel-a-pericas-and-jose-ramon-galan-mascaros-honoured-by-the-real-sociedad-espanola-de-quimica/